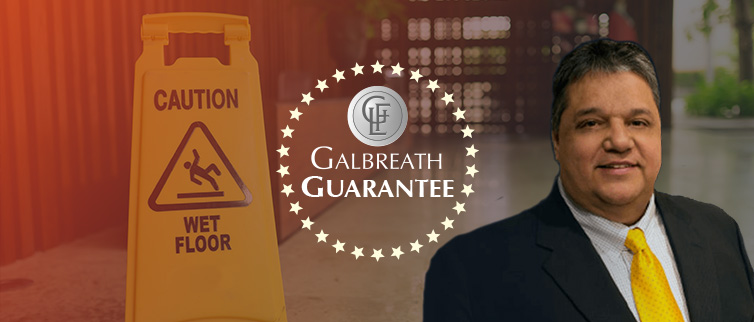 CONTACT US
(325)-437-7000

Call or Text us today

jeff@galbreathlawfirm.com

Email us now
Texan Trusted
PREMISES LIABILITY LAWYER ABILENE, TEXAS
Serving Victims of Slip and Falls
As the premises liability lawyer Abilene locals have trusted for years, we are here to help.
Premises liability cases, also known as slip and falls, can arise from a variety of circumstances. Getting compensation for injuries suffered on someone else's property depends on the reason that the victim was on the property, the dangerous condition that caused the accident, and how long the condition had been in place, among other issues. Knowledgeable premises liability attorney Jeffery B. Galbreath has handled many of these cases and can guide you through the process of holding an Abilene property owner accountable for careless actions. Premises liability cases can take time to prepare, so you should not delay in contacting the Galbreath Law Firm to explore whether you have a claim.
Lawsuit Against a Property Owner
Property owners have a general duty to keep other people on their premises reasonably safe from hazards. If this duty is breached, and an accident results, an injured person can bring a claim to seek compensation from the negligent property owner. In Texas, people who enter the premises of someone else may be classified in three different categories. There is a different level of care owed to each type of person.
An invitee is a person who goes onto property with the owner's knowledge and consent. Usually, the invitee enters the property for a business purpose or for a reason that will result in some benefit to the property owner. The owner must use ordinary care to make the premises safe for an invitee, including all actions that a reasonable owner would have taken to discover hidden dangers on the property.
Licensees have expressed or implied permission to be on the property in question, but they are there for a social rather than a business purpose. A landowner must not intentionally harm a licensee or cause him or her an injury through wanton conduct or gross negligence. A landowner does have a duty to warn a licensee of hidden dangers, if the landowner has actual knowledge of hazardous conditions.
Trespassers enter a landowner's property without permission. The only duty that a landowner owes to a trespasser is to not intentionally harm him or her. However, this may be different in cases involving children, where a higher level of care is sometimes required.
If an injured person was partially responsible for the accident that led to the injury, his or her recovery may be reduced in proportion to the amount of his or her fault. A victim who was more than 50 percent responsible will not be allowed to recover at all. Like other personal injury cases, Texas premises liability lawsuits are subject to a two-year statute of limitations. This means that you must file a claim within two years of the accident to preserve your right to compensation.
The Galbreath Law Firm serves clients throughout the State of Texas including but not limited to the cities of Abilene, Sweetwater, Brownwood, Coleman, and Eastland.
Free Consultation
Get Help Now
In Good Hands with Jeff Galbreath
Protect Your Rights by Enlisting an Aggressive Attorney
If you or someone in your family has been hurt because of a property owner's negligence, let the premises liability lawyer Abilene locals have trusted for years help. The Galbreath Law Firm can arrange a free consultation to discuss the details of your case. You can make an appointment with experienced accident lawyer Jeffery B. Galbreath by dialing (325) 437-7000 or filling out our contact form.