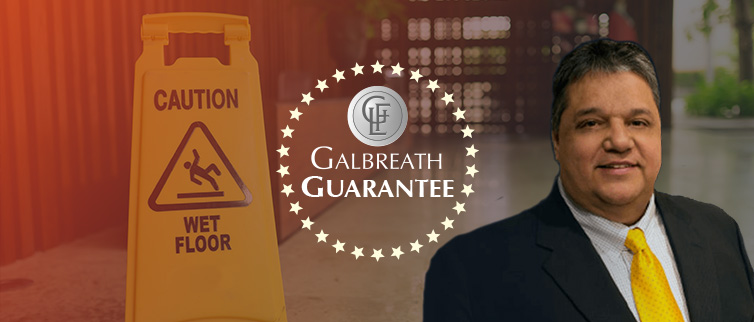 CONTACT US
(325)-437-7000

Text or call us today

jeff@galbreathlawfirm.com

Email us now
Texan Trusted
SLIP AND FALL INJURIES ATTORNEY
Abilene Slip and Fall Lawyer
Slip and fall accidents can lead to serious injury resulting in expensive medical care. Pain and suffering can be prolonged, and you could lose the ability to provide for yourself and your family. Slip and fall injuries can and do result in death. Slip and fall injuries can occur in the workplace or while on business premises as a customer or guest. It has been estimated that 300,000 disabling injuries occur each year at business locations, resulting in 1,400 worker deaths. In one year alone, The Bureau of Labor Statistics reported over 303,000 fall injuries. OSHA states that fall injuries are the leading cause of death among construction workers.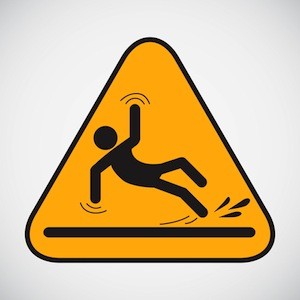 As a leading Abilene slip and fall lawyer, Galbreath Law Firm takes these statistics very seriously. We will thoroughly explain your rights, help to protect them, and work to help you get the compensation to which you are entitled.
A personal injury from a slip and fall can have dire consequences that result in loss of income for an extended amount of time as well as extensive medical and recovery bills. Sometimes the injury can lead to long-term or permanent disability. Slip and fall injuries may involve spinal cord trauma and/or trauma to the extremities or the head and neck. Injuries can sometimes take a while to manifest themselves after a slip and fall so, after a fall, you may want to be medically examined regardless of how you feel.
The Slip and Fall Lawyers at the Galbreath Law Firm have the experience necessary to represent you if you have suffered an injury in a slip and fall accident. If you slip and fall on someone else's property and sustain a personal injury, you may be entitled to seek compensation.
The law firm you choose must have experience in slip and fall cases. There are specific laws governing slip and fall cases. They are complex. You should never try to go this one alone. You need a reliable and robust law firm on your side to help you. The Galbreath Law Firm has both the experience and the expertise to represent your needs in this or any injury case. You need immediate and expert representation, and we will do our best to help you in your time of need.
Free Consultation
Get Help Now
In Good Hands with Jeff Galbreath
The Galbreath Law Firm helps people who have suffered from other people's negligent actions. We serve clients throughout the Big Country including, but not limited to, the cities of Abilene, Sweetwater, Brownwood, Coleman, and Eastland. Counties include but are not limited to Taylor County, Nolan County, Brown County, Coleman County, and Eastland County.
The Slip and Fall Lawyers at the Galbreath Law Firm is located @ 4542 Loop 322 #102, Abilene, TX 79602. Initial consultations are free. Give our offices a call at 325-437-7000