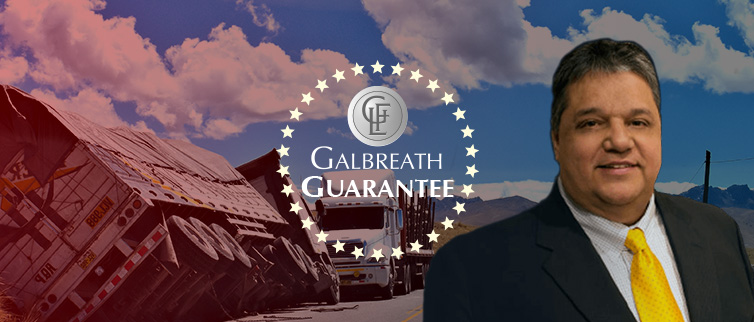 CONTACT US
(325)-437-7000

Text or call us today

jeff@galbreathlawfirm.com

Email us now
Texan Trusted
ODESSA 18-WHEELER ACCIDENT ATTORNEY
Legal Counsel for Odessa 18 Wheeler Accident Attorney
Anyone who has to drive down Interstate Highway 20 knows that traffic can get a little crazy on certain stretches. The part of I-20 that runs through Odessa is exceptionally dangerous. Three of the deadliest parts of I-20 run through the city of Odessa. Additionally, a study of I-20 during the time period between 2013 and 2015 tallied 81 auto accidents that claimed the lives of 100 people. When it comes to the increased amount of fatal wrecks, there are many factors that come into play. Since this part of the road is long, straight, and relatively flat, driver fatigue, as well as alcohol or drug-impaired driving, are contributing factors to the high fatality numbers.
Another point to consider is that since the oil and gas industry has grown in Odessa, the demand for drivers to bring in supplies and haul products has grown, too. With a rise in the number of inexperienced drivers, the number of 18-wheeler accidents in Odessa is going to climb, as well. While commercial truck drivers typically don't try to get into accidents, the rising demand for fuel may lead to understaffing. This lack of manpower can have a cascade effect that leads to overworked and tired drivers, as well as under-trained employees. New Drivers have to gain experience somehow, but it should not come at the expense of you and your family's safety.
Increased Industry and Infrastructure Strain
The oil industry is prevalent in and around the Odessa area. With the increased activity that comes with oil and gas transport, you will see a rise in the number of 18-wheeler accidents in Odessa. One problem that coincides with an industry boom is that you see an influx of activity that the current infrastructure can't handle. Roads may not be as wide as needed, or of poor quality, or not marked well enough to handle the increased traffic. More and more large trucks are moving through the area. Several factors can contribute to increased commercial truck traffic but one of the biggest may be that more people are living and working in the area so more goods are trucked in to satisfy supply and demand. Areas that experience a boom typically have growing pains before the infrastructure catches up to the growth. In the meantime, the construction to accommodate the increased traffic may contribute to the rise in 18-wheeler accidents, as well. All these factors combine together to create a deadly cause and effect.
Experienced 18-Wheeler Accident Attorney
An 18-wheeler accident can devastate a family. While these types of wrecks are fewer in number than passenger vehicle crashes, they can be far deadlier. These gargantuan machines are able to create powerful collisions and the likelihood of having one and escaping unscathed is low. The Galbreath Law Firm understands that an accident with an 18-wheeler can change the rest of your life. That means we take into consideration how long an accident might affect you. We fight on your behalf against these huge companies so that they can't bully you and get away without accepting proper responsibility for their drivers' negligent actions.
Free Consultation
Get Help Now
In Good Hands with Jeff Galbreath
If you and your family experienced an 18-wheeler wreck that left you wondering what to do, contact us. We have a proven track record of helping injured Texans get the compensation they deserve. There is no reason you should face the oil and gas industry alone. The Galbreath Law Firm has the experience you can depend on for results. Contact us and tell us about your accident in a free initial consultation and let us talk with you about your potential case.