What Can a Personal Injury Attorney Do For You?
After an accident or injury, you may be wondering what a personal injury attorney can do for you. A personal injury lawyer can provide valuable assistance after an accident that wasn't your fault. They work to help victims of accidents receive compensation for medical bills, lost wages, and pain and suffering. The lawyer negotiates with the insurance company on your behalf and will go to court if necessary to fight for the damages you deserve.
To win a personal injury case, you and your attorney must prove the other party's negligence or intentional behavior caused your injuries. The insurance company may agree to settle or dispute the claims of negligence. In the latter case, the matter may go to trial, and your attorney will represent you in court.
Various accidents can lead to personal injury cases, including automotive, motorcycle, truck, pedestrian, and bicycle accidents, slip and fall incidents, animal attacks, nursing home abuse, construction site accidents, and medical malpractice.
What to Expect with a Personal Injury Attorney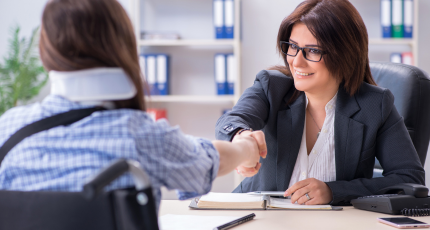 Once you hire a personal injury lawyer, they will investigate the facts of the case by studying reports, gathering evidence, interviewing witnesses, and consulting accident recreation experts. They will also interview doctors to determine the accident's impact on your life. After completing the background work, the attorney will negotiate with the insurer or initiate a lawsuit by filing the necessary documents.
In summary, a personal injury lawyer plays a crucial role in helping you seek compensation after an accident by representing your interests, negotiating with insurers, and potentially taking your case to court. They handle various tasks, including investigating the facts, gathering evidence, interviewing doctors, and preparing cases for negotiation or litigation.
If you or a loved one needs a personal injury attorney, we can help. With decades of experience, we are dedicated to protecting the rights of the people of Abilene, Texas, along with those in surrounding areas. Give us a call at (325) 437-7000 or fill out our contact form to schedule your free consultation.