Driver Trapped in an 18-Wheeler Accident
According to an article by KTXS, the truck driver was trapped in an 18-wheeler accident for hours after driving off the road south of Sweetwater. The accident occurred around 2 in the morning, and it wasn't until close to 7 that it was discovered, according to the Sweetwater Fire Chief, Grant Madden. Another fireman from Sweetwater discovered the pipe-laden tractor-trailer while he was traveling to work down Highway 70. The man called emergency workers about the 18-wheeler accident, and they proceeded to extract the man from the wreckage. The driver was taken to the hospital via helicopter, and no information was given about his condition.
18-Wheeler Wrecks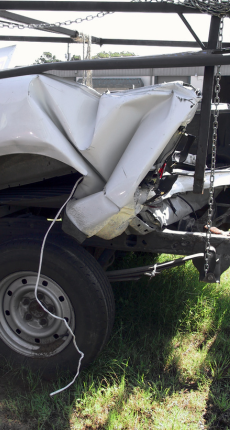 In this story, the semi-truck was the only vehicle involved in the accident. While there was no reason in the article why the truck driver went off the road, it is lucky that it didn't involve any passenger vehicles. Too often, a truck driver will, for whatever reason, drive off the road or cross the median and strike oncoming traffic. Sometimes, 18-wheeler operators don't follow the work hours and sleep guidelines, leading to a wreck. Perhaps the driver works for a company that doesn't promote safe habits. Even a lousy tire or mechanical failure can cause one of these massive vehicles to cross the road and lead to an accident. There are lots of things and circumstances that can lead to a deadly collision with a commercial truck.
A head-on collision between an 18-wheeler and a smaller car is a recipe for disaster due to the sheer size difference. In the blink of an eye, lives can change for the worse due to catastrophic injuries or the loss of a family member, and the survivors are left to pick up the pieces. For people who survive an 18-wheeler accident, the road to recovery is long and hard to travel. You may never get back to the way things were before the wreck. Looking out for your future is something that needs to be carefully considered. That's why it is in your best interest to get the help of an experienced West Texas truck accident lawyer.
Truck Accident Lawyer in Abilene, TX
The Galbreath Law Firm in Abilene, TX, has a proven track record of helping families injured or lost loved ones due to an 18-wheeler accident. We will do our best to ensure you get a fair settlement. Please make no mistake that the insurance companies who back the freighters will try their best to pay as little as possible. For this reason, we strongly suggest you contact us as soon as possible. Let us focus on gathering information and presenting your case while you focus on physical recovery and your family.