Accidents in Icy Weather Conditions
Accidents in Icy Weather Conditions
What does extreme weather mean to you? The answer to that question can vary since Texas is such a prominent place with varied climates and topography. Most of us will think of thunderstorms, tornadoes, hail storms, high winds, and hurricanes. Few people, except those in the panhandle, will see several days of ice and snow. Even so, accidents in icy weather conditions can lead to injuries, damages, and even fatalities.
Across the nation, icy weather causes approximately eleven percent of weather-related accidents. To demonstrate the danger of icy travel conditions, according to the Federal Highway Administration, a little over 150,000 car accidents occur each year on frozen roads. These crashes led to approximately 38,700 injuries and 560 fatalities. In the south, icy roads are more treacherous because most cities and people aren't prepared for them. While it's best to stay inside, some people don't have the luxury of being able to do so because of work or other reasons.
What Constitutes Negligent Driving in Texas
Negligent accidents happen when another person fails their duty to be a careful and safe driver. When this breach occurs and causes damage to either property or person, the person who breached the duty may be held liable for their unsafe actions. Just driving around without ice on the roads can be dangerous enough. When you throw in that wintry mix and make the roads slick, can this change that duty to be a safe and responsible driver? The short answer is no, it doesn't. Ice on the roads requires drivers to be even more careful. Just because you have a four-wheel-drive truck doesn't mean you have four-wheel stops. Loss of traction in your tires can leave you stranded on the side of the road, or worse, you could be responsible for bringing harm to other people.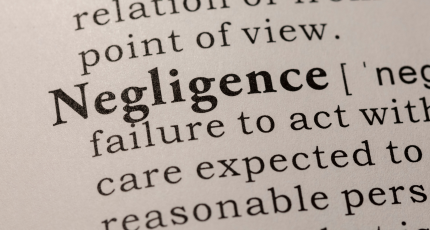 When snow and ice cover the roads, be cautious driving up hills. If you can avoid them, it's best since if you lose traction on a hill, you could slide back down uncontrolled. The Same goes for dips and low-lying areas. Snow and ice will accumulate there and make for some unexpected problems. Also, bridges can be dangerous since they can quickly freeze over. As mentioned before, please don't go out unless necessary. If you do need to travel, keep it slow. Truckers are no exception to this, either. While they may still need to drive for work, they must also be safe. Sadly, no matter how diligent you are when traveling on ice, not everyone may drive as safely as you. 
Abilene 18-Wheeler Accident Attorney
Galbreath Law Firm has the experience you can depend on if you've been injured in an 18-wheeler accident. Contact us for a primary consultation that we provide at no cost. Call us and tell us about your situation, and we will discuss your options with you about your potential case.